"BEST BRAND MANAGEMENT & STRONGEST BRAND CAMPAIGN" –
BEST PRACTICE
With a new category and the presentation of high quality entries,the European Real Brand Institute, REB.Institute, takes into account the fact that in times of crisis and intensifying competition, the importance of marketing departments is growing and the relevance of strategic brand management is increasing.
"Nothing sucks like an electrolux". Before theSwedish company advertised its hoovers in the USA with this slogan, perhaps it should have been explained to those responsible for the campaign what "sucks" means apart from "to suck". A Spanis hcourse, on the other hand, would not have hurt Mitsubishi's brand manager. The off-road vehicle model "Pajero" may sound good, but it sold rather badly in Spain; Pajero, Spanish for wanker ... It is not always linguistic finesse that condemns brand campaigns to flop. There can also be weaknesses in market understanding. When "resourceful "marketers came up with the idea of using the logo of a motorbike brand that traditionally stands for masculinity, strength and adventure to also advertise perfume and baby clothes, biker customers rebelled.The campaign had to be scrapped because the image had suffered.
Besides the flops, there are of course also the tops; one can be mentioned by way of example. Until the1990s, Jägermeister brand herbal schnapps was considered a drink for the 50 plus age group. To expand the target group, so-called "Jägerettes" -young women in skimpy orange clothing - were sent to bars to offer young guests ice-cold Jägermeisterin plastic test tubes. Jägermeister was then very popular with the younger clientele, and the brand's sales doubled in just a few years. A masterful image change.
Campaign criteria
What actually makes a good brand campaign? The question is not so easy to answer, the coordinated interaction of different resources and actors in this thematic field is complex. In any case, it first needs arough concept and answers to the questions of whothe target group is (Who are we talking to? What isthe insight? ...) and what the message is (What do we want to say? Can we make the statement? ...).What is needed is a strong central idea that carriesand inspires all campaign measures and later runs like a red thread through all forms of communication. Logically, the general conditions of the campaign (time, budget, competition, etc.) must also be clarified, which requires a deep understanding of the market as well as knowledge of self-perceptionand the perception of others. The detailed conceptthen deals with the concrete implementation. Which measures should lead to the defined goal and target group? In which chronological and content-related sequence and on which channel? And last but not least: How do you measure success?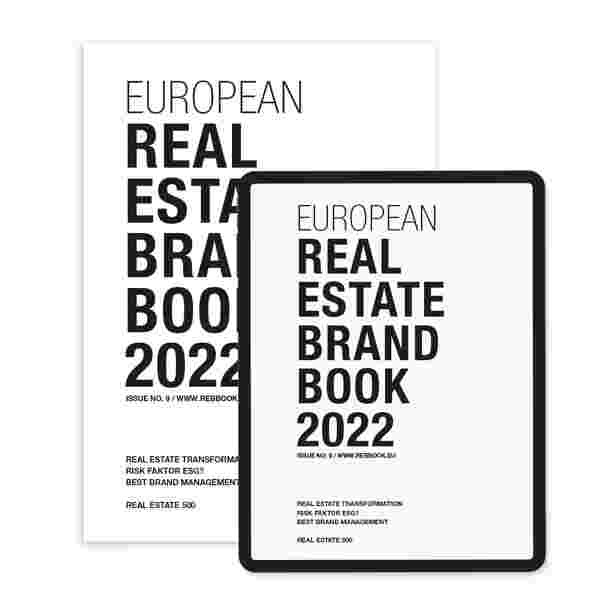 The REAL ESTATE BRAND BOOK
The leading medium for brand management and corporate development for all sub-sectors and asset classes of the European real estate industry.
Scope: 240 pages
Format: A4